2015 Toyota Camry Driving Impressions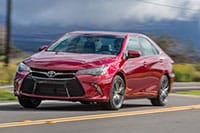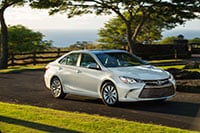 Camry's dynamic strengths have always been creamy ride quality, smooth powertrains, and quiet operation, and this update doubles down on those virtues, particularly in the area of interior noise levels. The cabin is Lexus quiet at all speeds, and the suspension erases small road irregularities. We should note that these impressions were made on generally smooth highways on the big island of Hawaii, but based on past experience we anticipate that the Camry ride quality will measure up with the best even on frost-tortured pavements.
On the other hand, the idea that the Camry XS and XSE are actually sporty and entertaining to drive qualifies as wishful thinking. The only difference that might show up on a formal track test is a little more grip from the XSE's 18-inch wheel-tire package, an advantage that's intangible to the driver. Aside from that, the tradeoff for pleasant ride quality is deliberate responses in rapid maneuvers, compounded by electric power steering that conveys very little tactile information to the driver.
Similarly, the carryover powertrains do little to advance the fun-to-drive agenda. The V6 in our primary test subject, the XSE, delivers decent power, and the 6-speed automatic is as smooth as anything in its class in full auto mode.
The 3.5-liter DOHC 24-valve V6 has port fuel injection and is rated at 268 horsepower at 6200 rpm, 248 pound-feet of torque at 4700 rpm. The V6 is EPA-rated at 21/31 mpg City/Highway, or 25 mpg Combined.
But acceleration with the standard four-cylinder is tepid, and passing exposure time can be uncomfortably long. The absence of a manual transmission with the four-cylinder is regrettable here, not only in terms of extracting the most from the engine, but also to add a little more credibility to the Camry's sporty image ambitions.
The 2.5-liter DOHC 16-valve inline four-cylinder that comes standard in Camry benefits from port fuel injection to generate 178 horsepower at 6000 rpm, 170 pound-feet of torque at 4100 rpm. It's EPA-rated at 25/35 mpg City/Highway, or 28 mpg Combined.
A weeklong drive in a Camry Hybrid SE in northern New Jersey showed a smooth ride and responsive powertrain. Toyota is a leader in hybrid gas-electric technology and it shows in this latest version. Acceleration performance was smooth whether in all-electric mode or using the gasoline engine. The brakes, which generate electricity whenever used, were the smoothest we have experienced in a hybrid. The brakes made a small noise whenever the pedal was pushed hard, most noticeable when the car was at rest.
Camry Hybrid models combine a 2.5-liter DOHC 16-valve four-cylinder engine with port fuel injection with a permanent magnet AC synchronous motor. The engine is rated at 156 hp at 5700 rpm, 156 pound-feet of torque 4500 rpm, while the motor is rated at 141 hp at 4500 rpm, 199 pound-feet of torque from 0 to 1500 rpm; combined output is rated at 200 horsepower. Hybrid models use a continuously variable transmission. Camry Hybrid SE and XLE are rated at 40/38 mpg or 40 mpg Combined; Camry Hybrid LE does better around town with an EPA-estimated 43/39 mpg City/Highway, and a Combined rating of 41 mpg.
** Price(s) does not include(s) all costs to be paid by a consumer including $499 documentation fee, except for licensing costs, registration fees, and taxes.