2015 Toyota 4Runner Driving Impressions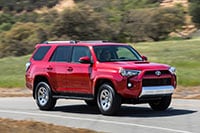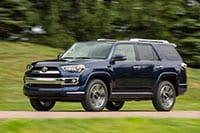 The 4-liter V6 engine makes 270 horsepower with 278 lb-ft of torque, about what most V6 pickups come with. It's coupled to a five-speed automatic that shifts quick and clean, rather than imperceptible like a gentrified SUV. It takes more than eight seconds to accelerate to 60 mph, not great but quick enough. Hills might cause a downshift out of the overdrive that's fifth gear. It's EPA rated 17 city and 23 highway miles per gallon, not very impressive because it can't escape being a heavy vehicle with big tires.
If you want a V8 in the Toyota family, there is the like-sized Lexus GX460 or the bigger Toyota Sequoia or Land Cruiser, all costing significantly more.
The ride in the 4Runner's isn't as smooth as that of a crossover. That's because of its body-on-frame construction, making it a real truck under the skin. For that slightly rugged ride you get rugged durable parts. The SR5 has tall tire sidewalls to cushion the ride some, and the Limited uses 20-inch lower-profile tires.
Each model has different ride and handling characteristics, but all are relatively quiet thanks to engineering efforts to isolate road noise. The brakes are big vented discs with good feel and consistent progression; but again, a lot depends on the tires. For example, the TRD Pro's Nitto Terra Grabber tires were meant to grab dirt, not asphalt.
The 4Runner steers deliberately, although with an easy steering effort, and it turns a fairly tight U-turn. It uses a variable power-assisted rack-and-pinion system with a variable-ratio steering rack. This adjusts hydraulic assist based on conditions, and the rack has a different tooth arrangement at the ends so the wheels change direction faster the further they are turned.
Trail models benefit from the big tire sidewalls on slightly wider wheels. They're also available with KDSS, or Kinetic Dynamic Suspension System. The KDSS uses much thicker antiroll bars, fattened in front to 1.68 inches from 1.18 inches, and in the rear to 1.18 inches from 0.79 inches. That gives the Trail better roll control and limits side-to-side movement and weight transfer on the road; these bars disconnect on the trail allowing each wheel maximum articulation.
With a locking differential, 9.6 inches of ground clearance, solid underbody protection and clearance angles close to those of a Jeep Wrangler Unlimited, the Trail will do a lot off road. Crawl control and Multi-terrain control electronics turn a novice into a star; in fact, these electronic strengths can make an experienced four-wheeler feel removed from the process, not unlike a veteran photographer with an automatic camera.
The TRD Pro gets more, with big Bilstein dampers (2.5 front, 2.0 rear) with remote oil reservoirs, one inch more travel, and TRD-tuned Eibach springs in front (softer than stock for the ride). The fat front shocks (similar in size to those used on heavy-duty industrial vehicles, says Toyota) have larger and more rigid shafts, 18mm v 12mm stock.
Limited models are no comparison on the trails, but they will still go off road better than a crossover thanks to is clearance, suspension travel, and beefy chassis. The tires are for the street and for comfort. Limited's secret weapon is the X-REAS damper system, that essentially links opposite corner shock absorbers to limit pitch and roll, making the big vehicle feel lighter and transition better. Limited's all-wheel drive system also helps grip and control, as it's engaged at all times.
Maximum towing capacity is 4,700 pounds by SAE J2807 standard; unless it says J2807 you can't compare this to another vehicle's tow rating. With standard trailer sway control, the 4Runner makes a great tow vehicle for a boat or track-day car, even with a crew in the cabin.
** Price(s) does not include(s) all costs to be paid by a consumer including $499 documentation fee, except for licensing costs, registration fees, and taxes.